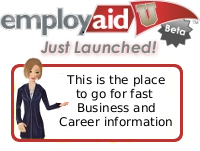 Articles
Views:
1655
| Comments:
0
|

Hottest Careers for College Grads

Tags: Career advice, Looking for work, College degree
In the midst of the economic crunch and the continuing trend toward offshoring, wouldn't it be nice to find a career that you really love and that is likely to be around for the next few years?
Well, according to the U.S. Bureau of Labor Statistics, there are a number of career choices that graduates can make during the next year or so where there is expected to be the largest amount of growth. In many cases these are also positions that require a hands-on approach and therefore are not likely to be shipped offshore. According to recent information from Princeton University jobs that involve ""establishing and maintaining personal relationships"" and ""assisting and caring for others"" are not easily off-shoreable.
If you are in the midst of trying to decide what you want to do when you graduate, perhaps one of these areas will peak your interest.
INFORMATION TECHNOLOGY
If you've been studying information technology for the last four years you'll be happy to know that this is a growing area according to the U.S. Bureau of Labor Statistics (BLS). In fact, they anticipate that the need for people in this field will increase by 40 to 50 percent in the next few years.
Network Systems and Data Communications Analysts. If you're ready to get out there and analyze, research, design, test, and evaluate network and other data communications systems, the BLS estimates that the national average salary range for these jobs start at around $40,000 and can climb to over six figures.
Computer Applications Software Engineers. If you like math, science and computers, then this might just be the field for you. According to the BLS, this field is projected to be one of the fastest growing through 2016 generating over 300,000 new jobs.
EDUCATION
Elementary and Secondary School Teachers. You were considering a career in teaching anyway, so why not make it working with youngsters. Teachers are an important part of the development of children. And with a bachelor's degree and the completion of a teaching certification program, you can be part of this worthwhile career. Growth is expected to reach nearly half a million over the next few years. Average annual salaries for elementary and secondary school teachers are generally in excess of $45,000.
ACCOUNTING AND FINANCE
Personal Financial Advisors. With a growth rate of over 40 percent, becoming a personal financial advisor may be the perfect career for anyone with an interest – and a degree – in finance. And if you are hoping to operate your own business, the BLS indicates that one-third of all financial advisors are self employed. While salaries can vary greatly from a low of $30,000 to mid-six figures, know that competition is stiff in this field. For further information, check out the National Association of Personal Financial Advisors.
Securities, Commodities and Financial Services Sales Agents. You like to buy and trade on the stock market for your own personal enjoyment. You're good at math and statistics. Well, then becoming a broker or sales agent in the financial services and securities field may be the perfect job for you. The projected growth rate for stock brokers over the next eight to ten years is expected to be around 25 percent. Though you have to start at the bottom and learn your trade, if you do it right you could earn a six-figure salary.
Accountants and Auditors. Crunching numbers, investigating accounting discrepancies, and balancing a budget might be what your future holds if you pursue a degree in accounting. While opportunities are expected to grow by18 percent, those with graduate degrees, certification or licensure are likely to see the most growth as well as the highest salaries.
MEDICAL AND HEALTH RELATED
Registered Nurse. If you are considering getting your BSN, do it. Nursing is one of those skills that is always in demand and allows you to move to most any city and find work. In addition, nursing offers a variety of disciplines to choose from – like acute care, psychiatric, and geriatric nursing – as well as various healthcare settings – like in a hospital, medical center or home health setting. And as the population ages, the need will continue to grow. In fact, the BLS predicts that over half a million new nursing jobs will be created from now until 2016.
Pharmacist. If you've got five years you want to put to good use, get a degree in pharmacology. Just like nursing, working as a pharmacist allows you not only flexibility with regard to where you want to live, but offers up a variety of pharmacy settings from the local or chain drug store to hospitals or nuclear medicine facilities. Earnings will be dependant on location and discipline; however, you can generally expect to earn between $50,000 and $100,000.
Rehabilitation Counselors. There are so many different kinds of counseling positions you might choose as a career – marriage and family, mental health, substance abuse, even vocational – however, you'll need at least a master's degree to become licensed and expect to earn a higher wage. In fact, while you might expect to earn the lowest wages in a non-profit setting – as little as $13 an hour – as you increase your education and experience your income can increase proportionally.
Veterinarians. Not only do you need to graduate from an accredited school of veterinary medicine, you should love to work with animals. Know that competition to veterinarian school is tough, but the BLS expects a 35 percent growth rate in this field over the next few years. Many vets work in private practice selecting to work with specific groups of animals – large animals, small animals, equine. Salary generally ranges from $40,000 to $60,000 annually.
So there you have it, ten jobs that are considered some of the hottest for new college grads. If you didn't see yours up there, don't worry, these are just some of the careers that are predicted to grow; there are likely many others that will do the same thing.